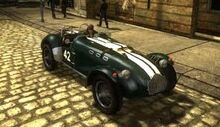 The Altair is an interesting Race Car and one of the first race car Sean Devlin gets to own. It is not the best performing vehicle in the game, but a great controllable car for the early sections of the game, where fast moving cars are rare and most cars are incredibly sluggish and hard to drive. What it lacks in performance it makes up for in good looks.
Background
Edit
The Altair is one of the first Race Cars in the game. This is because the requirements for unlocking them are a part of the natural progression of the game. To unlock the Altair, the player must steal 5 cars and store them in the Garage, which allows him to spawn them at any time. Storing 5 vehicles in the Garage unlocks the first Mechanic perk, which rewards the player with the Altair, which can be spawned from the Garage at any time afterwards.
Game Description: "A top speed that rivals the Aurora matched with smooth cornering has earned it the nickname 'The Flying Eagle'."
This car is rather unique not in its performance, but in it's name. This car is a reference to the Assassin's Creed series, as the cars name, Altair, is the name of the main character from that game series. Further, the car's nickname is 'The Flying Eagle' which is what Altair's name comes from. The reference is clear, but the purpose of the reference is also interesting, as it's likely a nod to the Assassin's Creed series which likely inspired the climbing mechanics found in The Saboteur, as they both implemented these mechanics around the same time.
The decision for the name belongs to none other than American videogame designer and Nazi history buff Peter Goudanis who chose it because the game to him felt like 'a direct cross between Assassin's Creed and Grand Theft Auto, the perfect combination'.
The Altair is one of the few cars that can be unlocked directly, but is also found in the world. The Altair can be found at any time at the race track in Saarbrücken.
Most cars in the game have a rare color that it can be randomly spawned with. The Altair's main color is a dark green, but with some luck the player can get a bright red Altair.
Altair is based from a real car Allard J2X.
External link
Edit
Allard J2 on Wikipedia